St. Briavels Assembly, Recreation & Reading Rooms
About St. Briavels Assembly Rooms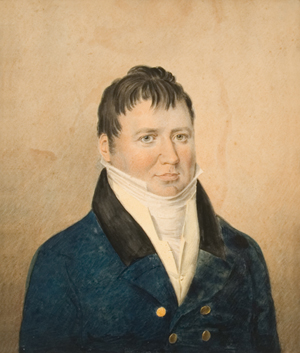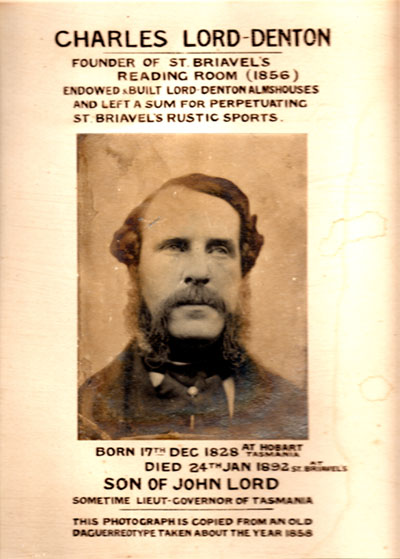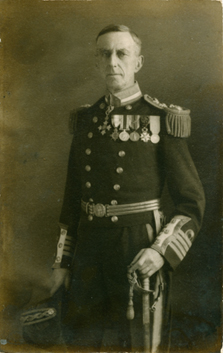 Lord Denton [left & centre] and Surgeon Capt. O.W. Andrews CBE [right], of St. Briavels
Pictures 1 and 3 courtesy of Deborah Bridget Asbell, Grandaughter of Surgeon Capt.O.W.Andrews.
HISTORY:
The St Briavels Assembly, Recreation & Reading Rooms are funded & run as a charity, having been built & donated to the parishioners of St Briavels by Captain Octavius W Andrews CBE, using money donated by his uncle, Charles Lord Denton, circa 1900 [registered charity nos. 301610 & 124367]. The photo featured above of Capt O W Andrews was taken in 1925.
Currently we have relatively little knowledge of Charles Lord Denton & his nephew Captain O W Andrews CBE, apart from their generous donation to the parish of St Briavels of the Assembly Rooms. However, we are researching this at the moment, so if you have any information you can give us, we would love to hear from you. Contact has been made with Deborah Bridget Asbell, the Granddaughter of Captain O W Andrews who very kindly sent some pictures and a little family background which we will publish soon. In the meantime you might want to bookmark this page for future updates.
TODAY:
St. Briavels Assembly Rooms is now a highly desirable venue, having undergone a complete renovation, from an investment of almost £400,000 in recent years. The very open, light and airy flexible spaces consist of a main Assembly Hall with stage and seating for approximately 120 people concert style, or around 90 people seated at tables. The main hall was almost entirely rebuilt in 2008 - except for the roof, which was finally replaced in 2014 and has wonderful rooflights allowing t he natural light to flood in. The adjoining Recreation Room (snooker room) was transformed into a trendy café / bar area in 2013, and opens onto a lovely courtyard garden terrace.
The main hall can be optionally merged with the adjoining Recreation / café-bar area, via a slick fold back glass wall. There is also a new fully equipped office / meeting room, also with French doors onto the courtyard terrace at the rear. The newly re-built toilets comprise of ladies, gents and disabled toilets, with wet room / walk in shower, plus a baby changing station.
All of these phases of refurbishment were thanks to numerous grants to whom we owe a huge thank you! These include DEFRA's 'South West Rural Enterprise Scheme'; Biffaward; Forest of Dean Local Action - RDPE programme for England; The Summerfield Charitable Trust; Gloucestershire County Council ComBI Grant; Magnox North (Oldbury Power Station); Resilience Great Dunkilns Wind Turbine Community Fund; The New Grove Trust, and the Parish Council. Every penny has been very gratefully received and very well spent indeed! All of these grants have been match funded by our own community's fund raising efforts.
The last phase of renovation work was to convert a large store room off of the Recreation / café-bar area into a full catering kitchen, which was finally completed early 2015, thanks to the Gloucestershire Environmental Trust, to whom we are extremely grateful.
Amenities include free Wi-Fi, access to computers, free international and mobile telephone calls and a fully equipped ready-to-go office complete with computer, printer, scanner, fax, telephone etc, to hire by the hour at an all inclusive rate of just £12 per hour!
The only part of our community owned building awaiting restoration now is the lovely first floor 'Reading Room' which has served the public well for a whole host of activities since 1856! However, it is currently used for our storage, and not yet re-opened to the public. Grants are currently being sought to carry out this final stage of renovation.
Many regular activities are held in the Assembly Rooms, such as a twice weekly 'pop-up' Wi-Fi café, plus a visiting seamstress and hairdresser; outreach adult education programmes; parent & toddler groups; yoga; pilates; Zumba; street dance and classical dance classes for children; art groups and workshops; art & craft exhibitions; quiz nights; dances; show; concerts; council meetings; club and society meetings; private parties; Citizens Advice Bureau, Police Point and Village Agent. It's a great venue at the heart of our community - and improving all the time. Why not hold one of your own events at the Rooms? It's perfect strolling distance from both the churches and is ideal for receptions & parties.
Our biggest fund raising success story so far is the very popular 'Local Produce & Suppliers Market', which was started in June 2006 in aid of the continued refurbishment of the Rooms. The market is nearly always held on the first Saturday of every month, apart from January, when it is on the 2nd Saturday. When work began on the Assembly Rooms the market was moved to the Pavilion and even though the Assembly Rooms have now re-opened, the market will continue to run from the Pavilion for the time being. It attracts many award winning food and drink producers from across the region and is featured on tourist information literature as a good place to visit to stock up on local flavours for self catering holidaymakers. The market offers a wide selection of quality produce ranging from rare breed pork, poultry and game, fresh fish & shellfish organic fruit, veg, handmade bread & patisserie, cheeses, vegetarian & vegan ready foods, jams & chutneys, cakes & award winning local cider, and sublime authentic curries & Indian snacks made fresh at the market in front of you, to eat on the spot, or take away!
FUTURE:
The last 12 years have singularly been the most successful phased in the history of the Assembly Rooms. So much progress has been made thanks to hard fund raising and generous support from numerous grant sources, but not least our large band of hard working trustees and volunteers! The buildings are looking very smart and inviting indeed and we have multiple bookings on almost every day of the week now!
HOWEVER... we need to raise more funds to complete the renovation. As already mentioned, the lovely Reading Room needs completely refurbishing to bring it back into full use to the public once again. When this is done St. Briavels Assembly Rooms will have been completely restored to support our remote rural community for generations to come!
The needs of our community are ever changing. It is vital that we have as much input and feedback as possible on what the parishioners of St Briavels want from their Assembly Rooms in the future, so that it can be considered during the final stages of development work. Have a say on YOUR Assembly Rooms future! Send your comments & ideas to info@st-briavels.com .
We've held numerous fund raising events and they have gone down a storm! A very big THANK YOU to those who attend our events and especially to those of you who lend help to run them! We will be holding even more, so watch this web site for details.
You can join our e-mailing list if you would like to receive updates on what's on by sending a request to events@st-briavels.com. If you want to get involved, either by volunteering your time to assist with fund raising events or joining our committee - or even by making a donation of any size, all would be gratefully received.
LOCATION:
In a designated Area of Outstanding Natural Beauty, the richly historic and quaint English village of St. Briavels nestles on the edge of a limestone plateau, soaring almost 800 ft above the wooded hillsides of the Wye Valley & Forest of Dean, commanding spectacular views overlooking the English / Welsh Border and Offa's Dyke.
With its ancient moated Royal Castle, St Briavels enjoys many visitors and is home to diverse population of approx 1200. Although predominantly an agricultural community, there are a particularly high number of talented Arts & Crafts people living in the parish.
St Briavels Castle - which is just a stone's throw away from the Assembly Rooms - has been a Norman fortress, a Royal Castle & hunting lodge of King John - and visited by Henry II, who made St Briavels Castle the Administrative and Judicial Centre for the Forest of Dean. It has also been a prison, a school & a private house, but today it is a Youth Hostel!
Due to the vast dense forest, which once supplied most of the timber for the country's fleet of naval ships, the area is also home to a dense & varied population of wildlife, including rare species such as free roaming Wild Boar, Eagle Owls & Peregrine Falcons as well as Kingfishers & Otters in the valley below.
Running either side of the Forest of Dean, there are two rivers that define the area, the Wye & the Severn, which are rare in themselves, being famed for having the rare delicacy of 'elvers' [baby eels] in their waters.
It is a combination of the Royal connections, stunning views, rich wildlife and the beautiful woodland walks along Offa's Dyke [whose exceptional bluebells & wild garlic in Spring inspired Wordsworth himself] - that to this day still contributes to vast numbers of visitors to St Briavels throughout the year. The Assembly Rooms are right in the centre of St Briavels village, practically opposite the George Inn, just yards off the main Chepstow to Coleford road [B4228] in Gloucestershire.
POSTCODE FOR SATNAV: GL15 6TG